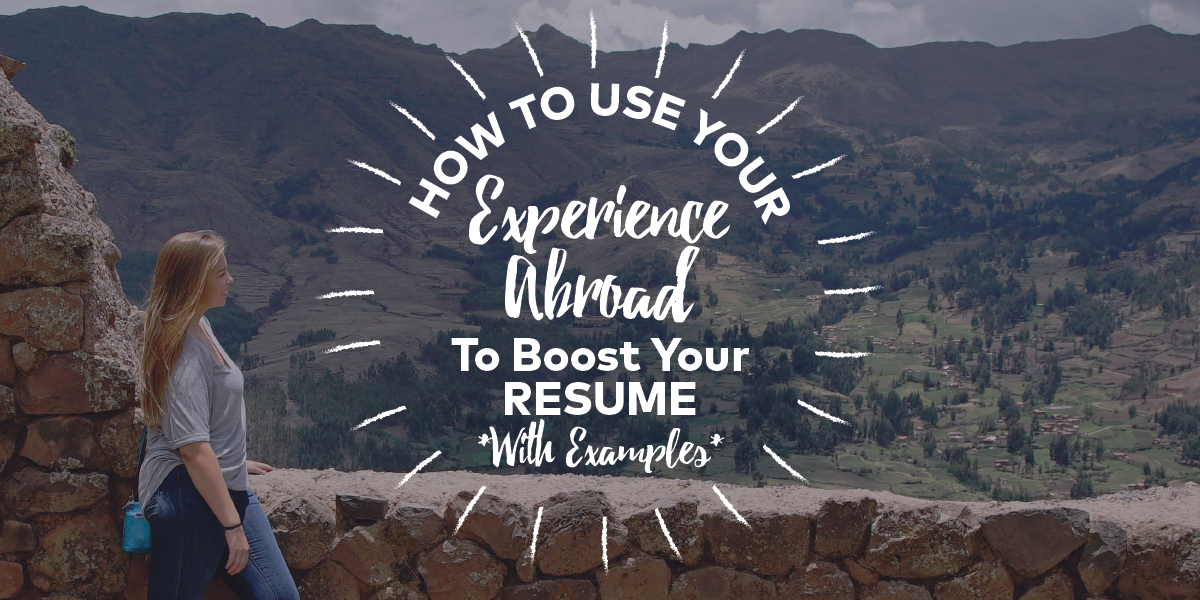 Studying, volunteering or gap-yearing abroad can leave an awkward blank space on your résumé... but it's not like you were doing nothing, right!? Fortunately for you, traveling abroad nurtures the development of skills that are directly transferable to the working world and are looked upon favorably by employers.

So you have all of these epic skills that you've picked up on your travels, but how do you put that down onto paper? And what exactly are they…? Here's Global Travel Academy's guide to owning your skills and explaining your international experience on your résumé…

Reflect On Your Journey ✔️
Once you arrive home, it is an important step in your re-entry process to reflect back on your experiences, the culture you were immersed in and how this has impacted you. Look back on any challenges you faced during your time abroad and how you overcame these, this will directly influence skills that you can then adapt for your resume. Did you face difficulty with language barriers while you were abroad? Overcoming this challenge by learning conversational phrases of the native tongue and practicing patience indicates that you have developed Cross Cultural Competence and excellent Verbal Communication skills.
One-Up Skills You Already Have ✔️
Were you already an excellent Problem Solver? Traveling will take these already awesome skills to the next level - and not only that, but you will have the anecdote to back it up in an interview. Think about specific travel situations that tested your skills while you were abroad and have these packaged into a quick go-to story to explain your capabilities. Don't forget to revisit the list of skills on your current resume and ramp them up with some worldly adjectives!
Confidence Is Key ✔️
Traveling the world (especially if you go solo) takes guts and this is something that you should brag about to a prospective employer. Confidence is a trait that workplaces love, how could they not!? You successfully traveled to the end of the world and back, you will excel as an employee. You could list Confidence on your resume under Employable Skills; alongside, Independence, Problem Solving, Uses Initiative, Global/Cultural Competency and Adaptability. All of which are transferable skills from the world to the workplace.
Endorse Your Travel With Certificates ✔️
If you are traveling abroad to volunteer or study, then you will most likely be awarded a certificate upon completion. This is extra endorsement for your travel, so be sure to include the official certificate titles on your résumé beneath "Education". If you are traveling on a gap year or simply vacation, how about completing a Global Travel Academy online course to include on your résumé. Not only will they prepare you further for international travel, but they will prove that you take your development seriously and are keen to up-skill where and when possible. Employers are stoked to have employees that strive to further themselves and their knowledge. Don't disregard these courses if you are volunteering or heading abroad to study, double the certificates is never a bad thing - and bonus, you will be extra prepared to make a valuable contribution and to stay safe on your adventure.
Teamwork Makes The Dream Work ✔️
Whether you traveled with school friends, colleagues, studied, volunteered abroad or went solo, there would have been an aspect of teamwork involved in order to reach a common goal. Interacting with fellow travelers can be challenging due to the varied mix of cultures, demographics and personalities, these testing times result in superior teamwork skills on your behalf and all employers value team players! Don't forget to have those specific teamwork anecdotes prepared when the interview rolls around.
Let The Numbers Do The Talking…

64% of employers value international experience and consider it important when recruiting potential employees.
84% of those who studied abroad felt that their experience abroad helped them build valuable skills for the job market.
92% of employers are looking for skills specifically nurtured in travel situations, such as openness to and curiosity about new challenges, confidence, tolerance towards other personal values and behaviours.
80% of travelers who studied abroad believed that their time abroad allowed them to better adapt better to diverse work environments.
Examples Of Common Travel Skills That Are Ideal For Your Resume:

Strong initiative
Independent
Can network with self-assurance
Effective communication skills, including cross-cultural communication
Global awareness and cultural competency (important in the modern workplace)
Exceptional language skills (insert languages spoken here, be sure to be honest about your experience level if or when mentioning a non-native language)
Improved confidence and sense of responsibility
Adaptable and shows tolerance
Careful decision-making and time-management
Accurate money management and decision making
It's great to have all of these amazing skills to back up your experience, but the most important thing to remember when constructing an epic résumé is to be honest, realistic and yourself! Being truthful about your skills and experiences with bode well for you in an interview scenario. Before you know it you will be living the dream in a career that you love (maybe even in the travel industry!).